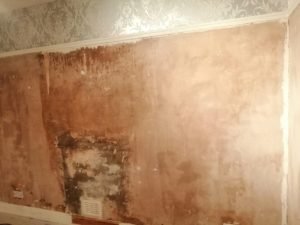 Our house was built in 1930 and for whatever reasons they decided to put wallpaper even on ceiling (shocking).  When renovated the smallest room in the house, we paid someone £130 to stripped the wallpaper. In the end they couldn't be bothered to strip the ones on the ceiling and decided to put plaster board..
Currently we are in the middle of renovating the main bedroom and decided to use a steamer to strip the wallpaper ourselves. To my surprise it wasn't as hard as I thought, you only need couple of tools to get the job done.
All you need is
Water.
Steamer
Wallpaper stripper.
Ladder.
Steam Removal
The hard part is  you must steam and strip at the same time. To make easier you can ask a friend for help.
A steamer is a wallpaper removal tool that uses boiling water to soften the glue between the wallpaper and the wall.
The basic steps are:
Make sure the power is off.
Pour warm water into the reservoir.
Turn on the machine and wait for the water to boil.
With goggles and gloves on, place the stripper's steam pad firmly on the wallpaper for about 30 seconds. Move the pad, and you should see loose paper. Remove the paper with a scraper.
Please follow and like us: