Chicken Stew  is a delicious meal with chicken,  potatoes, onions and tomatoes.  It's one of our all time favourite meals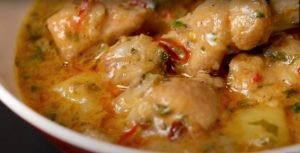 Ingredients
500 grams Chicken with bones, Curry cut pieces
2 x medium onion -chopped
2 x green chillies & 1 x red Chilli -chopped
2 x medium tomatoes -chopped
2 x diced potatoes
2 tsp garlic -minced
2 tsp ginger -minced
200ml Coconut Milk
3/4 salt
1/2 tsp crushed black pepper
3TSB Oil
1 tsp lemon juice
2 tsp chopped coriander
Method
once washed and dry the chicken. in a bowl  mix chicken with salt 1/2tsp, black pepper-1/4tsp, set aside for 30 minutes
heat the pan and add oil, add chopped onions , fry for 3 minutes on medium heat until translucent.
Add green and red chillies, fry for 1 minutes then add ginger and garlic and cook for 2 minutes on medium heat.
add chicken pieces, fry for 5 minutes on Medium Heat until is evenly brown.
add diced potatoes and chopped tomatoes
Add salt to taste cover and cook for 3 minutes on low heat.
Add coconut milk, mix well and bring to boil.
cover and cook for 20 minutes on low heat.
add black pepper (1/4) and 1 tsp lemon juice and coriander and mix well
simmer 1-2 minutes on low heat.
serve with Rice, Naan bread, or chapati
Please follow and like us: